Erykah Badu ia an artist, who is at the forefront of the Nu-Organic Soul movement, which began in the mid 1990's.
Born Erica Abi Wright in South Dallas, Texas, in 1971, Erykah was raised by her mother.
Her father had left the two siblings with their mother at an early age, leaving her grandmother pitching in with the domestic upbringings of Erykah and her brother.
Erykah's mother, Kolleen Maria Gipson (a.k.a. Wright), was an actress, and it was with her mother Erykah sang and danced as a young child in Dallas.
In her early teens, she was performing with the likes of Roy Hargrove on local radio stations, and it was at this time she changed her name from Erica to Erykah.
Erykah graduated from Booker T. Washington High School for the Performing and Visual Arts, and later studied at the Grambling State University.
On leaving the University in 1993, she took on various jobs to pay the bills, whilst teaching drama and dance to children at the South Dallas Cultural Center.
After recording a set of demo tracks, entitled 'Country Cousins', Erykah came to the attention of Kedar Massenburg, who paired her with D'Angelo for the song 'Your Precious Love', which in turn led to a contract with the Universal Records imprint.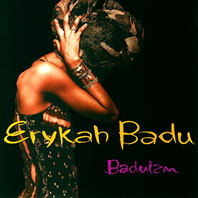 Erykah recorded her debut album 'Baduizm' in 1997, which received excellent reviews, reaching number 2 on the Billboard charts.
The first single release 'On & On' reached number 12 on the singles charts on both sides of the Atlantic.
'Baduizm' eventually went triple platinum and won Grammy Awards during 1998.
That year Erykah became involved with the rapper André 3000 of the group OutKast, with whom she had a child called Seven, who was born in 1997.
She recorded her first live album, simply called 'Live', whilst pregnant with Seven.
Erykah took time out to bring up her child, returning to recording in 2000 with the album 'Mama's Gun', which featured Roy Ayers on the project.
She also contributed to the movie soundtrack for the film 'Bamboozled' singing 'In The Light', along with her own take on the Rufus evergreen 'Hollywood'.
She then toured throughout 2002 and 2003, releasing the album 'Worldwide Underground' later that year.
'Worldwide Underground' reached number 3 on the Billboard charts and was certified gold almost immediately.
Five years passed until the release of 'New Amerykah Part One (4th World War)', a prelude to the 2010 set 'New Amerykah Part Two (Return of the Ankh)', an album well received amongst Soul Music fans.
Both albums were released on Motown Records.
Erykah Badu has three children Severn Sirius, Puma Sabti and Mars Merkeba, and runs a charitable organisation called the Beautiful Love Incorporated Non Profit Development, which assists youngsters further their performing aspirations.
She has also appeared in several movie vehicles including 'Blues Brothers 2000', 'The Cider House Rules', 'House of D', 'Before the Music Dies', and Dave Chappelle's 'Block Party'.